The Bonnit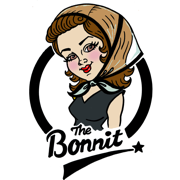 A renewed version of the classic rain bonnet used to protect pincurls and perfect updo's from the outside elements. A windy, rainy day will no longer ruin your fabulous hair day!
Each purchase comes with one patterned bonnet and one clear, both in their own reusable pouch. Great to have in the car, in your purse or by the front door for when the unexpected happens.
The Bonnit is reusable but once you are finished with it please place it in the recycling bin. 100% Polyethylene.